Window Trim Kits
WDI custom manufactures trim kits for window and door replacements. Our partners give us the specifications of their windows and we create pre-finished and ready-to-install trim kits, for a perfect fit and quick installation.
We've made the process simple. First, gather measurements. Second, transfer measurements onto our order form. Lastly, attach your order to an email and send it to WDI. We build window trim kits as ordered and ship them to your place of business in approximately 2 weeks (10 business days).
Installation is just as easy. View our 'Installation' page to see just how.
WDI offers many different options and variations as standard when it comes to manufacturing trim kits. You can see these options below. For custom trim kit shapes and material options, please navigate to our 'Custom Options' page for more information.
Standard Options
Standard trim kits are rectangular in shape, including jamb, casing, and stop material on all 4 sides. Standard material options are as follows…
Standard Wood Species
WDI offers 3 wood species as standard options in manufacturing trim kits. Standard species include Oak (Red Oak), Poplar (Paint-Grade), and Maple.

Standard Casing Options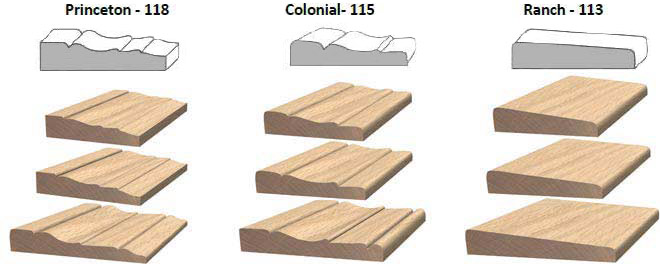 We offer 3 standard casing options in 3 separate widths. Standard casing profiles include Ranch (113), Colonial, (115), and Princeton (118) and are offered in 2.25", 2.5", and 3.25" widths. 2.5" wide casing is great for covering existing paint lines left over from old trim in your clients' homes.
Standard Finishing
We currently have 24 standard color options. All colors are shown on Oak with two exceptions, #4 is presented on Poplar and #M100 is presented on Maple.
There are natural variations in all wood and there may be slight variations in color from piece to piece.  Applying these same colors to other materials will also have the potential to produce variations from the images shown on your screen or the physical color samples chips provided with the partner kit. These variations are natural and will be present in all natural wood products. This uniqueness is one of the reasons natural wood is such an appealing material!
| | | | | | |
| --- | --- | --- | --- | --- | --- |
| | | | | | |
| Dark Oak Supreme | Light Oak Supreme | Cherry Oak Supreme | White Supreme (Paint) | American Walnut | Cinnamon Oak |
| | | | | | |
| Golden Oak | Traditional Cherry Oak | Coffee Bean Oak | Rich Cherry Oak | White Oak | Traditional Mahogany Oak |
| | | | | | |
| Country Pine Oak | BRI Light Oak | BRI Medium Oak | BRI Cherry OaK | BRI Brazilian Cherry | BRI Maple |
| | | | | | |
| Soft Maple | Rich Maple | Raw – No Finish | Clear Coat Only | BRI Light Brazilian Cherry | L Maple |