WDI Window Trim Kits
WDI's revolutionary trim kit system effectively eliminates all uncertainties and hassles derived through on-site D.I.Y. trim work, while keeping both the installer and home owner at the heart of our service.
WDI Trim Kits are custom manufactured with factory precision to fit any window or door opening. Kits are ordered to specification and delivered fully-assembled & pre-finished; 100% ready for installation.
Visit our Products, Partners, and Resources Pages to learn more about our trim kit product, who we work with, and the benefits of working with WDI Company, and as always, feel free to give us a call at any time to speak with a company representative directly.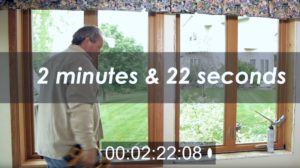 Complete installation in just 2 1/2 minutes!